Moscow, Russia, November 24, 2011 - Top Systems, the leading developer of advanced parametric design software, has announced the release of version 12 of its T-FLEX CAD® system.
Significant improvements in both 3D modeling and 2D drafting in the latest version accelerate the design process with various productivity enhancements, optimized technology of parametric assemblies that is helpful for quick design modifications, as well as more convenient operations with complex and large assembly models. The new version offers improved tools for simulation and efficient team collaboration.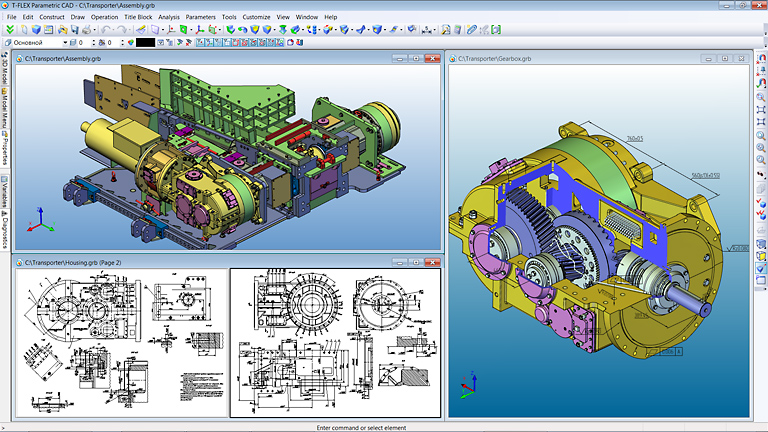 T-FLEX CAD 12 with its new architectural solutions provides serious improvements of stability, quality, and performance of the application. It includes hundreds of enhancements to the quality of the application and has improved performance achieving gains up to 10 times and more at some time and resource consuming operations.
The new graphics engine is based on modern architecture and leverages the capabilities of modern graphics cards. Operations with data were optimized, thus significantly reducing the amount of used memory, providing convenient work with much larger models on the same hardware.
"Users will immediately feel the impact of the new modeling and graphics architecture that makes the overall productivity much faster", commented Sergey Kozlov, Chief Technology Officer of Top Systems. "The enhancements in T-FLEX CAD 12 further expand its unmatched ability to make extremely difficult tasks possible for the end users", he added.
New object-oriented mechanism of 3D manipulators helps to control elements of the models providing functionality for rapid changes in the projects. The new 3D sections significantly simplify assembly modeling allowing users to continue operations with objects within the clipped areas.
The all-new command for modeling pipelines meets the challenges of cabling and piping design.
Many modeling operations, including blending, extrusion, sweeping, deformation, local geometry modifications have new additional features and options based on the use of the latest version of Parasolid kernel.
Tools for parametric assemblies got further development. In T-FLEX CAD 12 it is possible to change parameters of parts at any level from the upper assembly. This eliminates the need to pass parameters through all levels of assembly for parametric control. Adaptive "smart" fragments allow users to seamlessly incorporate design intent into their assemblies. Execution of arbitrary macro when inserting a part was implemented. Macro can be programmed for a specific algorithm to insert custom entities improving intuitiveness and adding a variety of additional functionality.
The new mechanism for part alignment with specific bindings to floor, walls, ceiling, and horizontal surfaces by mechanism of connectors is very helpful for interior designs. The possibility of modifying external variables in the model by means of manipulators adds flexibility for parameters control. Inserting and editing of parts was noticeably accelerated.
Mechanism for creating BOM tables and placing was greatly enhanced receiving an automatic option. Functionality for creating 2D documentation was expanded. Tools for creating leader notes and GD&T symbols got new functionality, improved interface, and support for 3D. Section views now have additional features. Database access functions were completely redesigned. New mechanism of grouping elements significantly accelerated selection of elements in a variety of operations.
New features were added to T-FLEX CAM and T-FLEX Analysis - fully integrated into T-FLEX CAD applications that offer completely parametric functionally for CNC machining and finite-element simulation.
For a full detailed list of new features, click here.
About T-FLEX CAD
T-FLEX CAD from Top Systems is a powerful 3D modeling and 2D drafting software that enables engineering teams to develop products more quickly, at higher quality standards, providing unique parametric mechanisms combined with production-proven Parasolid® based solid modeling. T-FLEX is written for 32-bit and 64-bit Microsoft ® Windows XP, Vista, and 7 operating systems, and is distributed in various languages to customers around the world.
About Top Systems
Founded in 1992, Top Systems (Moscow, Russia) develops and markets comprehensive, easy-to-use MCAD/CAM/CAE/PDM solutions at affordable prices. For more information about the company and its products, including free trials, see www.tflex.com, www.topsystems.ru or contact a reseller. To find international resellers, visit http://tflex.com/links/index.htm page.